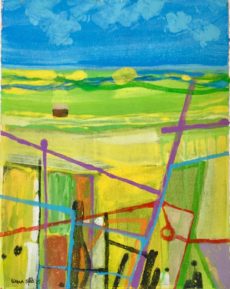 Alan Wrenn was born in London, England but has lived in Northern Michigan for over twenty years. In London, he worked for a commercial television company as a studio floor manager involved in the production of film and television programs. In 1993, he and his wife Sally moved to the United States and started a small landscape design business in the Glen Arbor area.
Searching for another creative outlet, he rediscovered painting, and has been producing work for over fifteen years at his studio in Leelanau County.
For the past three years, he has been painting abstract landscapes using the technique of mono printing to produce work which offers an alternative to the more traditional interpretation of the landscape by using combination of imagination and vivid color.
Artist Gallery