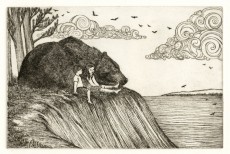 All of my artwork is centered on what I love most, which is nature, all animals, and fantasy.  I love telling stories and creating images that you have to look at closely to be able to see everything.  This is because I put so much detail into every aspect of each piece.  I also enjoy ornamentation design, and often put borders around my pieces that complement my love for all things decorative.
The artwork I create is all based around drawing, but recently I have been using my drawing skills to explore different processes of making art.  I have been working with copperplate intaglio etchings and pen and ink drawings, then assembling and coloring everything digitally.  I like to combine the older processes of hand pulling prints with digital aspects and sometimes hand- embellishing because it keeps each piece unique and brings techniques of the past into the present again.
As a recent graduate from the College for Creative Studies, I will be spending the majority of my time at my family cabin in the Leelanau Peninsula before returning to Detroit and starting my adventure into the world of art fairs.
Artist Gallery