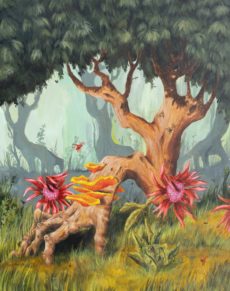 There are endless distractions in our modern lives' that pull us away from the natural world we belong to. So much, that there has been a growing disconnect between us and the rest of the natural world. This growing void has convinced many of us to believe that we are above all else on this planet. However, one can become aware of their own ego and find where their roots truly belong by taking a step into the forest and absorbing all life around them. From the connections we share with the cosmos, to the vast networks of communication in the forest and the power we contain within our own thoughts. I bring these discussions to life and showcase the deeper existence of the realm we live in, yet don't fully understand. Using a diverse arsenal of creative methods, I aim to enlighten peoples' lives and demonstrate the consciousness of the forest by illuminating sagas of the "Wood-Wide-Web". I hope to give people a deeper appreciation for the forest and all life existing on this priceless planet.
I work with acrylic paint because of its expressive versatility, and compatibility with wood surfaces. Re-purposed wood is my preferred surface to paint on because I find it important to find purpose in the discarded. Often times, I intentionally leave the wood exposed. I work with the wood grain and knots to guide my creative hand. This allows me to coexist with the tree's natural beauty, highlighting it's elegance alongside my own aesthetic.
It is impossible to capture the grace of nature, entirely. However, keeping an unrestricted hand and mind is my best attempt at exposing the unfathomable multiplex of nature. Each painting suggests a natural unraveling, similar to the way fungal networks transmit messages from one tree to the next, or how a tiny patch of land can be full of life acting as a super organism, or the way our own feet and hands can leave an altering indentation upon the soil we occupy. The main message and goal of my work is to spread people's awareness of the complexity and importance the natural world has in our lives. I want my viewers to think deeper and emerge themselves in a forest bathing experience for their eyes and souls. Much like an ad campaign for a man-made product, I am spreading my own brand awareness campaign for Mother Earth! 
Artist Gallery