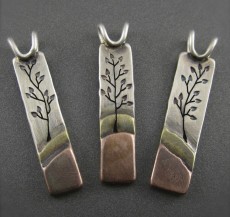 The ability to create miniature images in metal is fascinating. The thinness of a handmade line has always been intriguing for me. I view the jewelry as line drawings in metal.
Each design is cut in metal with a hand held jewelers saw. Texture is made with hammers, handmade stamps and various hand tools. Patinas are carefully painted into details to create contrast. Every edge, corner and surface is also carefully finished. Recycled sterling silver, copper and brass are used to create these pieces.
Silhouettes from nature are inherent in the designs. By using figure ground reversal, the viewer perceives something that is only visually available because of its surroundings. Like nature, each part is dependent on the other for mutual existence.
Many parts of life and existence become available to our senses because of the environment they are in. Our surroundings help define who we are.
Beth Millner lives in Marquette, Michigan and has a downtown storefront, Beth Millner Jewelry. Beth holds a Bachelor of Fine Arts in Metalsmithing from Northern Michigan University.
Artist Gallery