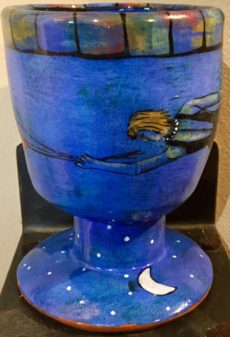 There is a Greek word, Kairos, which loosely means: to be in the place you were meant to be, or where time and destiny meet. Within this search for place, I found a natural progression from painting and surface design into clay. My artwork has evolved as narrative handbuilt, one-of-a-kind pieces; conceived, designed and crafted entirely by me.
I work with terra cotta, earthenware clay. It is my choice because despite all attempts to decorate the surface, it remains red clay – natural, a little raw, a bit unrefined. All of my work is handbuilt, also a nod to the telling marks of the process. The surface work involves layering of slips, stains, underglazes, oxides and glaze through the processes of wax-resist, texturing and carving, painting, slip trail and brushwork. This requires multiple firings.
The narrative in my work centers around landscapes, the figure and related symbolism. I have borrowed loosely from the teachings of Native Americans, who instruct that the rhythms and forces of nature are not separate from our lives. Their concept of "totems" as any object, being or animal whose energy we feel closely associated with, is one I have generously embraced.
Above all else, my work reflects a passion for the people, the places and the experiences that have inspired and created me. My goal is to create objects that connect with the viewer through recognition of shared experiences. I think of my clay pieces as metaphors for each of us in the search for our place – somewhat functional, pleasant to be around and hoping to engage.
Artist Gallery