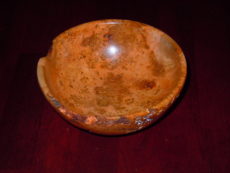 I'm doing exactly what I have wanted to do for my whole life.  I am following in my Dad's footsteps, though traversing a different path.
When my Dad retired from the job that paid the bills he began the work that filled his heart, unleashing the Master Wood Carver within him.  I retired very early from a completely different career, yet longed to answer the siren call of wood, to continue on my own Odyssey, and to do it in my own way.
So, I am now a recovering Engineer, and I am doing what fills my heart rather than my bank account.  I started out small, but have now been doing major furniture and wood turnings for about 8 years.
And wood never fails to inspire me, to amaze me.
Artist Gallery