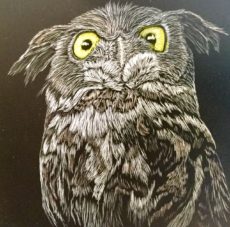 One look at my work and you'll notice it is devoted primarily to animals, both wildlife and domestic. I have been heavily interested in conservation and promotion of animal welfare locally and internationally for most of my life. I took my interest to college back in the late 90's where I obtained a Bachelor of Science in Environmental Science, Pollution and Treatment from Rutgers University. I spent over 20 years working in industry, dedicated to environmental compliance and regulatory management. These days, I earn the bulk of my funds from artistic endeavors while consulting as an environmental professional privately.
I am a scratchboard artist (or "scratchboarder") whose pieces are hand rendered in a manual etching process. I essentially scratch my images line by line into a masonite board covered in white clay and black ink. As I remove the top layer of black ink, the clay layer below is exposed. This is how the image is made… line by line. Sometimes, I use colored india ink to highlight an area. That section would be added after initial scratching… and then would need to be scratched again to add texture. It's twice the work to add color, so I do it half the time!
I love the stark contrast and deep detail that may be achieved with scratchboard. Details in images are one of the traits that truly attracts me to scratchboard. Using this medium, I endeavor to bring a connection between the viewer and subject through expression. Relatable moments, personality, expressions, create an understanding and sympathy for the animals which can help develop an interest or appreciation. Every note of understanding brings us closer to nature and a desire to protect it! Especially when you enjoy creating images of animals that may not be appreciated routinely or universally (bats and porcupines are favorites of mine!!).
I recently began to use my artwork to raise money for causes such as Pandas International and a local bat conservation group in Michigan. I plan to continue to raise money and awareness for causes related to conservation annually, concentrating on the holiday season. Each year, I will create and issue an ornament whose sales will generate funds for a cause! I'm hoping to have a positive impact with art, fulfilling a lifelong dedication to the environment.
Artist Gallery