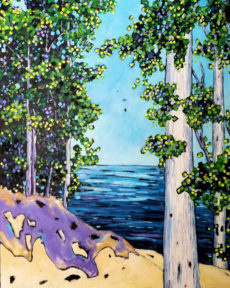 Professional Artist Christi Dreese was born and raised in West Michigan and has been involved in the arts since she was a child. She spent summers as a young girl on her father's boat coasting along Lake Michigan. It was there that she grew to love the calm waters, sunsets, and relaxed atmosphere. Christi lives in Spring Lake and has two daughters, Kaelyn age 11 and Alexa age 9.  Christi received her Bachelor of Art degree at Aquinas College in Grand Rapids and owns Dreese Fine Art & Framing in Grand Haven.  Custom framing, painting parties, private art lessons for adults and children are a few of the additional services she offers.
Christi paintings come from her heart. She loves being near the water and therefore paints many West Michigan lake shore scenes. Along with Christi's passion for the lake shore, she has found abstract to be a great emotional release and different creative process from her contemporary landscapes.  Quick brush strokes, gouges from the end of her paint brush and graphite are drawn into her paintings. Every work of art is inspired by her thoughts and feelings.
Christi's love for the arts, lake shore and personal growth continues to inspire her to create new works of art and have purpose in life.
Artist Gallery