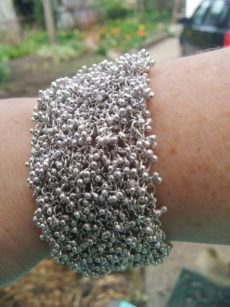 Christine Bossler has been working in metals for the past 17 years, and today creates modern pieces with a touch of sass in her Detroit workshop.  Growing up in a creative household, she knew from a young age that she could make "real" things with her hands.  As an adult, she has always felt that working with her hands gave her a sense of accomplishment that she couldn't find elsewhere.
Christine has long been inspired by modernism and creates for anyone who loves color, texture and clean design.
When she isn't working in her studio, she can be found renovating her house or walking her dog Basil.
Artist Gallery