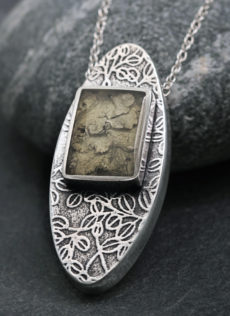 I've been making art in some form or another since I was a child. By the time I discovered metal smithing, I'd worked as a graphic designer/illustrator for over three decades. I fell in love with the 3-dimensional aspect of working with metal, particularly sterling silver.
Minimalism best describes my aesthetic. Inspired by nature and modern architecture, my goal is to join simplicity with complexity. My process of making a one-of-a-kind piece is intuitive and flexible. After making a series of sketches, I often end up with something very different than what I'd first imagined.
All of my jewelry is hand-forged, and every piece is one-of-a-kind. I love to incorporate stones – the ones I find on Lake Michigan beaches, as well as semi-precious stones from around the world.  I often use a rolling mill to imprint the sterling silver with patterns and textures.
Currently I'm enjoying the challenge of creating hollow-form pieces. While lightweight, this process adds greater dimension and interest to the design. I'm also working on new ways of using resin to preserve and encase things I find in nature, such as lichen, mushrooms and butterfly wings. Recently, I started using 23K gold leaf and small diamonds which makes a subtle counterpoint to the silver.
It's a joy to go into my studio and see where the design takes me when creating a mini-sculpture of wearable art.
Artist Gallery