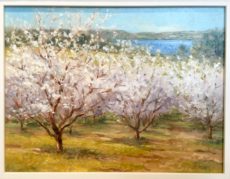 Award winning artist Connie Kuhnle creates visual stories of the beauty, character and truth in the life she discovers all around her; in the faces and character of the people she meets, in rural architecture and landscape, and simple objects.
Gallery Paintings
Connie's ability to re-create the flow and feel of sunlight across her subject is what draws buyers to her landscape paintings. Collectors often comment that when they view Connie's paintings they can feel the breeze, the warmth of the sun or the coolness of the shade and how her paintings bring them a sense of peace or stirs an emotional connection to the place.
"Strong light and shadow patterns are often what first excite me about a scene. I am intrigued by shapes, subtle value and color changes, and the juxtaposition of architectural elements and organic forms. When I successfully combine those elements I have captured the mood and essence of the subject."
Portraits
Collectors who commission portraits from Connie are always pleased with the results. They are amazed at her ability to paint the likeness and capture the character of the person. Clients often comment that when they look at one of Connie's portraits it seems like the subject may begin to breathe or speak.
"Faces and people fascinate me. There is beauty in everyone and a portrait, whether it is casual or formal, is a wonderful way to honor and recognize that persons beauty and unique character and qualities. I strive to create my portraits with a sense of saying this person is of irreplaceable value. I believe that when I honor someone with a portrait I also honor the God who created them."
Connie Kuhnle studied fine art at Michigan State University and illustration at Kendall College of Art and Design. She worked as an illustrator, graphic designer and animator before pursuing a career in fine art and portraiture.
Artist Gallery