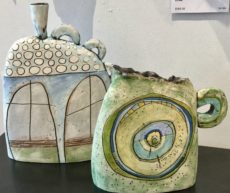 I have been making art for 50+ years, a startling and comforting thought. I am consumed by using clay to conceptualize most any thought in a form or surface, generally drawing from my everyday life, art history, and nature. My latest vessels are made in low-fire terra cotta and white stoneware; experimenting with different clay bodies and always searching for that huge, new thought.
After constructing, carving, stamping, and sometimes drawing on the surface, very slow drying and bisque firing, I apply a base glaze, remove for textural enhancement and begin applying underglazes and more glazes. Many of the pieces are fired 3-5 times to achieve the richness of surface desired. I use two very old, but much loved, Skutt kilns in a basement where I am curious and generally at peace.
I have been a studio artist since 2008, prior to that a high school art teacher in Elkhart, IN. A new home in Empire is sure to worm its way into my work and heart; such a magical place it is indeed!
————
Education
Mishawaka HS; 1970
Indiana University; BS 1975
Indiana University; MS 1979
School of the Art Institute; AP Certification 1998
Employment
South Bend Community Schools; 1975-76
Elkhart Community Schools; 1976-2008
Studio Artist; 2008-present
Awards
Teacher of the Year, Elkhart Central High School; 1995
Patron/Purchase Award, Midwest Museum of American Art, Elkhart, IN; 1989, 2008-2015
Taste of the Gardens – Best of Show, Wellfield Botanical Gardens, Ekhart, IN; 2011, 2015
Artist Gallery