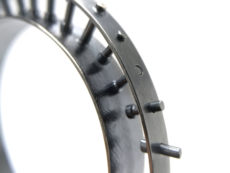 Dana's love for jewelry making started in high school and continued through college where she earned a Bachelor of Fine Arts in Metals from Ball State University in 2004. She also apprenticed with a fine jeweler, which helped refine her technical skills. Having taken a break from her bench for several years to start a family, she is an emerging artist, thrilled to be back at her bench.
Dana explores intimacy and connection through kinetic jewelry design.
Subtle, repetitive kinetic elements that teeter, slide or flip are engaged in her bracelets, rings and cufflinks by the interaction of the wearer with the piece. While wearing the jewelry is not a requirement for engagement, when the jewelry is in its proper place on the body, an opportunity for connection can be found. As the jewelry fades into the background of consciousness of the wearer, the natural motion of the body effortlessly activates the kinetic elements, producing a gentle tapping of metal on metal. Nearly audible only to the wearer; sound brings the intimacy of the relationship with the adornment back into awareness.
Dana works in her home studio in Leelanau County, Michigan where she lives with her husband and three young kids.
Artist Gallery