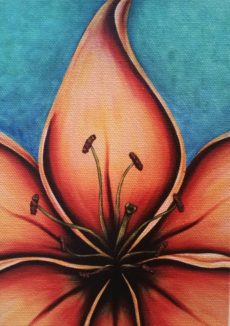 Originally from Wyandotte, Michigan, Denise now practices refinement of her art at her studio in Northville, MI.
Denise has spent many years of her life in the practice of creating beautiful art – drawing, painting, photography, hair design and make-up application.  Creative expression has always provided her a sense of balance in her life.
She began her journey into acrylic painting / mixed-media in 2008 when the instructor from an acrylic painting class at Schoolcraft College in Livonia, Michigan encouraged her to explore her talent further.   It was there she rediscovered her affection for painting with mixed media.  In 2010, Denise had her first solo exhibit at Plymouth Community Arts Council. Her first exhibit showcased for the first time her unique and characteristic use of artistic media in combination with acrylics to convey texture in a flower.  The event was an early indication of her success, as three pieces were sold at the event.
Since then, Denise has sold over 200 paintings, exhibiting at art fairs and exhibits throughout Michigan.  In March of 2014, Denise's piece 'Enlightened' was placed on permanent exhibit at the Henry Ford Hospital in Bloomfield Hills.  Denise has been interviewed on WJR-Detroit AM Radio and in the Plymouth Observer.  Her work has been displayed on WDIV-Detroit ABC TV.  In 2014, Denise's work was juried for entry into ArtPrize in Grand Rapids, Michigan.
Denise is actively involved in encouraging others to explore their path in art.  She is an instructor and volunteer at the Plymouth Community Arts Council.
Artist Gallery