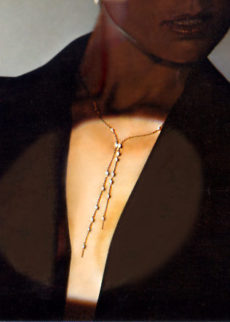 I began my career working at the bench in a fine custom jewelry studio in the mid 1970's. The thing I have always enjoyed most is the craft—the actual hands on creation of something from initial sketches, on through to a fine finished piece.
I have been creating jewelry for a little over thirty years now. For me, employing my skills and ingenuity to fashion an aesthetically pleasing object is still what it's all about. That others appreciate the work makes it all the more enjoyable.
Every piece that goes out of the studio is my work. I don't buy "blanks" from a factory, or pour materials into one end of a machine and pull a bracelet out of the other. I handcraft my pieces, doing most of the work here at my bench.
If you are in the market for a piece of jewelry along the lines of what I do here, I would love the opportunity to build something for you.
Artist Gallery