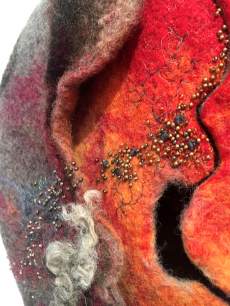 Both nature and art have been sources of energy and inspiration for me since childhood.   I began weaving decades ago when I saw a roommate at the University of Michigan Biological Station weaving colorful bands on an inkle loom.  I've been weaving ever since, for many years in spare time during a career as a biologist.
My love of fiber has expanded to include felting three dimensional objects, braiding, and dyeing.  I dye many of the fibers or yarns that I work with, both cellulose (cotton, rayon, etc.) and protein (wool, silk).  I use painterly techniques in my dyeing, a magical process to me.
My work is a reflection of the feelings I have about nature. The ecological science that was at the heart of my career informs these feelings, but does not result in  realistic, accurate images of natural forms.  I'm often drawn to inconspicuous things in nature….lichens, mosses, fungi, stones, tree bark…. things that are banished from manicured lawns and perfect gardens …. and interpret these through color, texture, and form.
My work has been shown at the Michigan League of Handweavers juried biennial fiber exhibit at the Dennos Museum in Traverse City, Mi, at various exhibits at the Oliver Art Center in Frankfort, Michigan, at the Milwaukee (WI) Art Museum as part of the Handweavers Guild of America Small Expressions exhibit, and has won third and first places in exhibits at Michigan League of Handweavers biennial conferences.
Artist Gallery