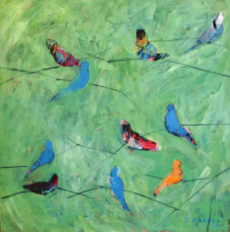 Mostly a landscape painter, in recent years I've explored abstraction. In my abstract work, I paint intuitively. This means I literally stand before a blank canvas with as much of "empty mind" as it's possible to have. Without a plan, I pick up paint from my palette that I squeeze out or from mixtures of pigments I've previously been working with. Using brush, knife, or my fingers, I allow myself to simply place a color where it seems to want to go. I repeat this until the painting resolves; that is, until it seems to be complete.
This way of painting is both daunting and fulfilling. Often, what appears at first seems chaotic and out of control. But, then, later in the process, something happens that is beautiful and unexpected. I was surprised as anyone when last November, painting in this intuitive manner, birds began to appear on my canvases. Now, as April gives way to May, my fine feathered friends continue to wing their way into my work in oils.
For someone who's largely represented regional subjects such as dunes, shoreline, and Michigan barns, the inclusion of live creatures represents quite a shift of focus. Keep in mind, too, that I don't intend to paint them – it's more that these bird shapes (and the occasional butterfly) simply show up asking to be noticed. For as long as I've been painting—going on 14 years, now—nothing like this has even happened. It's as if the birds have simply decided, on their own, to migrate to my studio!
Although I'm not a birdwatcher as such, now that I'm surrounded by bird paintings, I'm more attuned to the winged ones I see and hear in nature. Flitting about, perching, or in flight, they are like those angels who are said to be able to fly because they take things lightly. I take note that birds have flocked to my canvas at a time when it seems the world can use reminders of hope, joy, play and delight. Like a soothing balm for sore souls, these intuitively painted birds raise my spirits, as I believe they would yours, now and for many years to come.
In addition, Ellie has authored her own book, 7 Habits of Deeply Fulfilled Artists: Your Aesthetic Needs & How to Meet Them (2012, Clear Light Press).
Artist Gallery