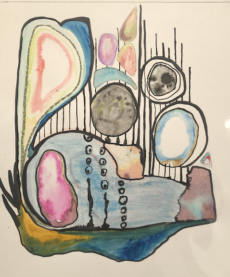 I remain in a state of profound curiosity towards the mystery and complexities of life. I elicit inspiration from a deep sense of the unknown. 
My paintings reflect my world; filled with expression, confusion, growth, suffering, chaos, and harmony. I convey the potential for beauty and destruction in each painting, which I hope the viewer to see in themselves that same potential. There is nothing to let go of in this world because there is nothing to hold on to. In my paintings there is mostly emptiness and mystery. I add motifs to provoke thought towards everything we grasp tightly as we perpetually fall into existence. 
I use watercolor and ink along with other mediums. The watercolors allow me to surrender, providing a sense of flow and impermanence  While the ink and other mediums contrast the Immediacy, spontaneity, and transparency of the watercolors with permanence, concentration and order.
Artist Gallery