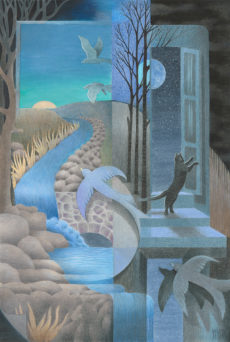 Gary Warren Potter is a self-taught, abstract artist who enjoys the challenge of developing linear abstractions and visual matrixes.  He creates his original works primarily using pencil and drawing mediums, including Prismacolor pencils, graphite, and charcoal.  In some works Gary combines his pencil strokes with watercolor, acrylic, or ink.  Many pieces include the detailed precision of an impressed line technique which adds texture and depth to his creations.
Gary was born and raised in Michigan.  He has experienced a life of challenges and persevered through hardships that have colored his perspective on life, spirit, nature, and the universe.  He aspires to share this unique perspective through his works.
Gary's creative process begins when he forms a near-complete visualization in his mind, then he transfers his vision to paper, where he allows the images to surprise and lead him where they may until the drawing is complete.  He currently creates works with subject matters including musical instruments, leaves, nautical environments, ships, animals, birds, and nature. He concentrates on developing one work at a time, and rotates through subjects which draw his interest and act as a catalyst for creativity in the moment.
Gary is particularly inspired by artists M.C. Escher, René Magritte, and Gustave Caillebotte.  He and his wife currently live in Southeast Michigan.
Artist Gallery