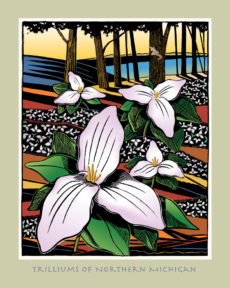 An honor graduate from Kendall College of Art and Design, Jim DeWildt has been working as a professional illustrator and graphic designer for more than 45 years.
Jim served two years in the U.S. Army as an illustrator for the Pentagon and worked with a very select group of designers, illustrators and writers from all around the United States. All hand picked!
Upon release from the service Jim took some time o and traveled around the US and eventually ended up in Traverse City where he and his wife Manie along with their four children have made it their home for the past 40 plus years.
Aside from the commerical jobs, Jim has also particapated in many ne arts shows and exhibits throughout the years. His main medium has been watercolor but is also pro cient in oils, pencil, pen & ink and scratchboard.
Jim's commericial illustrations and ne art can be found across the country from private collections to prestigious corporate brochures, catalogs, and annual reports.
Back in the early eighties, Jim was a part time instructor at Northwestern Michigan College where he taught commerial illustration. He taught there for six years while running his own art studio.
Artist Gallery