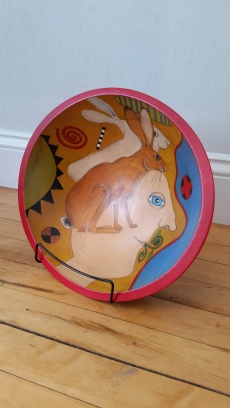 "My work is about a constant stream of unseen images that flow through my conscious and unconscious mind in a somewhat dream-like state. "
Jeanine Anderson Guncheon's work represents creativity in many mediums without concern for time or space. It is an exploration of the possible and a complete lack of the impossible.
Guncheon's work is frequently derived from childhood memories of fishing and doing other activities in nature. She also incorporates found objects, inspired by her father, who was always looking for interesting found things. She collects textiles, which has led to her current line of handmade blankets and pillows.
Guncheon has a degree from Harrington Institute of Interior Design in Chicago, IL. She is self-taught in the areas of painting with fabric dyes, bookmaking, and mixed media sculpture.
Artist Gallery