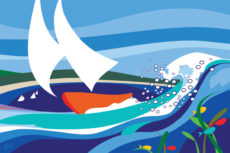 When asked "what did you want to be as a child," Kat responded, "what I am now – though I didn't know it then.  I didn't know you could be so many things."
Following her artistic dream in her first years of college, she studied ceramics and theatre, but later decided a Bachelor's of Science in TV production would provide a larger paint brush for opportunities. Which it did.  Directing on-camera talent, designing production stages, writing scripts, producing educational and marketing materials, creating digital media and editing video programs and commercials became her palette of skills.  
In 2009 she moved to Suttons Bay where she established Kat Dakota Design a DBA of DakotaDoDat.
As an artist, Kat never stands still. She debuted her digital painting which opened doors into the art world. Her current artwork emphases clean lines and lots of chroma.
Her art may not be "traditional," but it's grabbing attention.  It's bold, colorful and refreshing – an art style that speaks joy, much like her persona. It brings a since of familiarity and comfort.  Some liken her style to the 70's and artist Peter Max.
Take the Northport Marina Mural for instance – bright colors that segue from one scene to another down the 109' wall.  Her challenge – create a village attraction with high quality artwork involving community participation with people of all ages and abilities. Result – more than 200 individuals contributed, helping each other, sharing techniques, making new friends and building community pride.
When asked what inspires her most, without hesitation Kat smiled and said, "Challenges and the people I meet along the way."
Artist Gallery