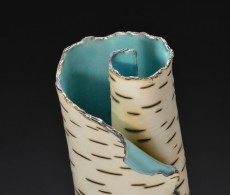 Kristine Stewart has lived and studied art in San Antonio Texas, Savannah Georgia, and Ann Arbor Michigan. She received her BA from the University of Michiganand earned an MA from Eastern Michigan University. She has worked primarily in clay for 35 years.
"A lifetime of world travel has inspired my concern for environmental preservation. I use trees as the focus of my current body of work because their presence ispleasurable and meaningful to humanity and critically important in the natural world. I live in a woods because I find the elegance and tranquility to be theperfect environment in which to create. I can observe the elements of design, geometry and patterns which are inspirational. With my art I hope to bring to oureveryday a reminder of our environment which sometimes we take for granted."
She has participated in numerous shows in the US since 1987 and has work in Great Britain as well as installations in private residences.
Artist Gallery