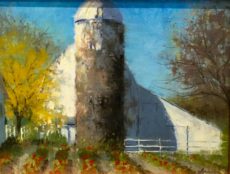 Kurt Brian Anderson was born in Dearborn, Michigan in 1957. The youngest of 4 boys, he was immersed in Motown music which greatly influenced his love of the arts. He discovered his love of nature during many backpacking trips in the US and Canada.
He was accepted into the Physician Assistant Program at Western Michigan University in 1983 and worked as a PA for 33 years until retiring in 2016.
In 1996, he set sail on a self guided journey to rediscover his creative talents in painting. Ingesting as much as he could through reading, he began enrolling in workshops in the Petoskey, MI area to further his studies. Major influences of his include contemporary master Richard Schmid, as well as Elizabeth Pollie and Marc Hanson.
He enjoys direct painting from life which he feels not only reveals accurate values and colors, but truly captures the emotional response of the scene. The focused observation involved for the study forms a rich memory palace allowing a vivid recall of the experience including date, time of day, weather, scene details, and even passersby (including conversations with them!)
Kurt has received training from Timothy Horn, Shelby Keefe, Elizabeth Pollie, Caesar Citraro, Alan Maciag, Bob Fagan, Catherine Carey, Margaret Tvedten, and Larry Blovits
Artist Gallery