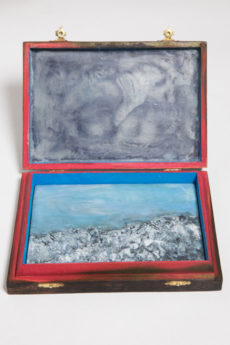 Nature, particularly wilderness speaks to me. My work has long focused on human impact on the natural world. I connect deeply with the outdoors. Places I've walked, hiked, sat, lived and imagined figure prominently in my work. Some of these places are Michigan focused, many are places in the high latitudes.
In May 2017 I camped on the Eclipse Icefield with a group of climate scientists. It was a magical experience – incredibly remote, pristine and quiet. And while these high glacial icefields feel utterly impervious to human destruction they are not. The Eclipse is one of the largest non-polar icefields on the planet and it is 4 degrees C warmer in 2016 than it was in 2004. Sitting in the coastal St Elias range in Kluane National Park at the western edge of North America means that there is a steady stream of moisture from the Pacific Ocean feeding enormous annual snowfalls but it is warming and the ecosystems at lower altitudes are feeling the change in the form of changing glacial outflow and other major ecological. Wilderness is a bellwether for the damage caused by climate change.
My series of shrines and reliquaries attempt to memorialize what is sacred, rare, beautiful and at risk due to climate change. They encapsulate tiny bits of enormous vistas in a form one can hold in one's hands, help fast in boxes of scorched wood which symbolizes the destruction we are inflicting on our world and especially on these most pure and pristine places. I use clear reds and blues in these pieces – colors used traditionally in artwork made by people in high places to capture the purity of these places along with encaustic, metal leaf and oil paint.
Artist Gallery