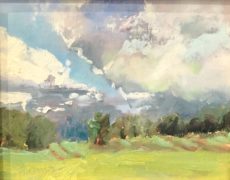 Living in the northern tip of lake Huron on the Canadian border her summers were filled with nature and the quietness,that the big body of water creates. With no phone or TV her imagination was free to explore and grow. After having been downstate for 35 years she still spends as much time in the summer right next door to where she grew up. Renewing her spirit and giving the calmness that only the great lakes can do.
Her art has been a lifetime journey working with a New York artist spending 14 years working on Murals for large hotels,such as The Plaza in New York (4 years 18 murals) Palm Beach Breakers hotel (Venetian ballroom) Greenbrier (restoration) and many others.  She decided it was time to paint for her and so she started taking classes first with Sharon Griffs Tarr and then Scott Christensen 2 workshops with him.  Mary Whyte, Stuart Shils , C.W. Mundy, Diane Rath (mentor) Kevin Beifuss ,David Slonim
She a big believer in self-study.  Having examined a long lineage of artists, she feels a sense of history when she paints, a connectiveness to the source of information, be it the color of green Edgar Payne used on his water or the the light that streams across a Sorrola painting. Her paintings are more than just a concept or design, they are more from about capturing a feeling from the heart, an unwritten word.  A soul connection from the painter to the viewer.
Artist Gallery