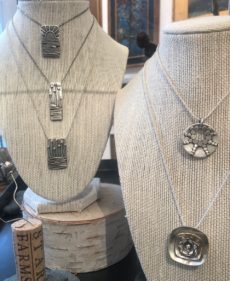 I love to create. It's a family trait that has flowed from past generations to my siblings and me. There is nothing better than working with my hands to transform raw materials into my vision of beauty or purpose. Yet, my years as a teacher and education administrator allowed only sporadic time for creative pursuits. They were years that were filled with countless amazing children and the joy, challenges, heartbreak and hope they brought to my life. I carry those experiences with me and believe that they continue to impact the sensitivity of my work as a metalsmith.
Retirement has afforded me with the opportunity to create and has opened a new chapter for pursuing my passion to make contemporary jewelry. Combining my experiences with research, mentorship and classes with master silversmiths, brings continuous learning and ever increasing depth to my work. I draw additional inspiration from natural textures, shapes, and movements as well as architectural elements.
It is my hope that the deep satisfaction and happiness that designing and hand fabricating each piece brings to me, is shared by those that experience and wear my jewelry.
Artist Gallery