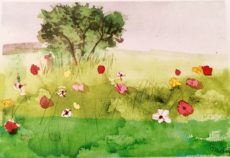 I began my love for art in junior high, high school, and college. My passion for art came to an abrupt halt when I was diagnosed with a brain tumor in 1995. Prior to my brain tumor, I was sketching and drawing cartoons. Thanks to my parents and an incredible neurosurgeon in New York, my life was saved and I am continuing my love of art with painting and sculpting. Although I have lost most of my sight, I have learned to "feel" with my hands.
I began my company, Michael's Unique Visions, in the fall of 2000. One of my original art works was commissioned for Steve Yzerman, then-captain of the Detroit Red Wings hockey team. Just a few of the many galleries and gift shops that carry my art are Chateau Chantal Winery in Traverse City, Elements Gallery in Charlevoix, Main Street in Milford, and Sleeping Bear Gallery in Empire.
I hope you enjoy my art as much as I have enjoyed creating it for you.
Artist Gallery