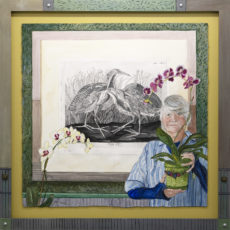 PAT CUSTER DENISON (b.1948) has been making art professionally since 1970. She studied painting and printmaking at the University of Michigan (1966-1970). Pat began selling acrylic paintings, watercolors, woodblock prints and etchings at outdoor art fairs. By the late 70's her ceramic tile work took over. Pat is very well known in Michigan for the small ceramic tile series that she used to design each year, as well as her wood and tile wall sculptures.
By 1990 Chip Denison (husband since 1970) came to work with Pat in the art studio. He was not interested in designing art, but was a perfect facilitator. He liked to joke that his job description was any work in the process that Pat didn't think was fun.
In 1998 the Denisons moved their home and art studio from Macomb Twp., MI to  a bit of paradise at the south end of the Sleeping Bear Dunes National Lakeshore.Pat continued to use her narrative graphic style in her tile work, but was becoming more obsessed with painting watercolors in the field. Eventually she transitioned from her ceramic work to painting watercolors. Pat has (in the last decade) resurrected her love of printmaking. She uses a variety of techniques in small limited editions.
Chip continues to assist Pat by building her frames, carving them, and getting them primed for Pat to finish. The Denisons only other studio help is their 36 year old Amazon parrot.
Artist Gallery