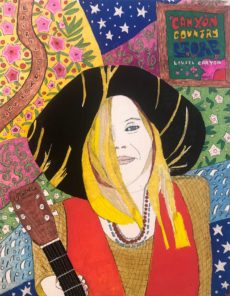 Art In The Sleeping Bear Dunes! Artwork by Robert Jr. Whitall
Over eight years ago, I began drawing and painting as I began my journey with chronic illnesses and spent many weeks being hospitalized. To my surprise, I found that my view from my hospital window was the same scenery in the same hospital (Detroit's Henry Ford Hospital) that Frida Kahlo once was. Kahlo has been an inspiration in my art because despite her chronic illness and severe pain, she never stopped creating.
I use pencil to sketch out my portraits and then transfer my ideas to canvas with pencil, acrylic, ink and liquid marker. I have created hundreds of "Muse-Ick Heads" – portraits of musicians who have inspired me. Last summer 2019 I was thrilled to be commissioned by the National Blues Museum in St. Louis to create three portraits of St. Louis musicians and exhibited my work there from June 14, 2019 through September 2019.
"We're very excited to show our guests from around the world and around St. Louis some of the brilliant personalities that make blues in America today so exciting," National Blues Museum deputy director Erin Mahony said. "Robert Jr. Whitall has been capturing stories of the blues as a journalist for decades. It's only natural that his understanding of these brilliant figures should translate into such vibrant pieces of art."
"At Big City Rhythm & Blues, Whitall leads a team which crosses the country to cover major blues events, from the Mississippi Delta to New York, LA, Chicago, Memphis and beyond. Since founding the magazine in 1995, Whitall has interviewed some of the blues' most important figures. As an artist, he has captured the personalities of many great musicians, as well as legendary figures from the past, in a folk/outsider art style that has been compared to Basquiat and Grandma Moses." – Gazelle Magazine, June 2019, St. Louis, Missouri.
Robert Jr. Whitall is the publisher and photographer for Big City Rhythm & Blues Magazine, an independent music magazine that is subscription based and distributed around the world celebrating its 25th anniversary of publishing in 2020. 
Whitall has been painting at his "Helms Deep" music barn and studio by the Sleeping Bear Dunes every summer for the past five years. Twenty-one years ago he married Sugar at the Pierce Stocking Drive lookout #11 on September 11, 1999.
"I am blessed and honored to live in a resort town right next to a National Park–The Sleeping Bear Dunes. I am equally blessed and honored to have my artwork at the Sleeping Bear Gallery."  Robert Jr. Whitall 
Artist Gallery