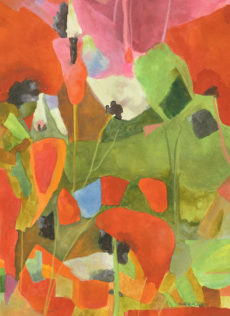 I was encouraged at a young age to paint and draw. I enjoyed it and continued in high school by taking classes at the Art Institute of Chicago. In college I was a fine arts major and studied with Bruce McGrew and Douglas Dickerson at the University of Arizona.
I like the light and transparency that is attained through my favorite medium, watercolor. When I am painting I am reminded of a point in time. I enjoy painting landscapes, either rain or shine. Still life, or everyday objects that catch the light and reflect upon one another are also part of my work. Of the many artists that I admire, Winslow Homer and Carolyn Brady are two favorites. Homer for his use of darkest darks and lights; and Brady for her detailed compositions and reflective surfaces.
Twelve years ago after many visits to northern Michigan I bought a home on the Leelanau Peninsula. Its beautiful beaches, farmlands and orchards with unending vistas have inspired much of the painting I do. My current work continues to capture beauty as I see it. Landscapes of Leelanau, night scenes, city scenes and reflective surfaces all fulfill my appetite for watercolor painting.
Education: 
BFA  University of Arizona, Tucson, AZ
Post Graduate Studies:
The American Academy of Art, Chicago, IL
Workshops and classes with Tony Couch, Joan Richmond, Fran Vail, Charles Passereli, Peggy McNamera, Melanie Parke, and recently Richard Kooyman
Artist Gallery