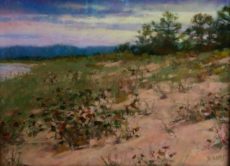 Michigan artist, Sharon Will, got her start in the arts through training and working in the commercial art field.  Several years were spent in graphics, illustration, and freelancing before breaking from advertising, all the while studying painting. Beginning in oil, then followed by decades of working exclusively in pastel, she now paints in both mediums, with an emphasis on plein air painting.  Landscapes, still lifes, and figures provide the needed variety, yet she is consistently drawn back to the landscape for her major inspiration.
Over thirty five years of painting have won Sharon numerous National & International Awards including Paint the Parks, IAPS Prix de Pastel, as well as a featured article in American Artist Magazine.  For her achievements in pastel, she has been inducted into the IAPS Master Circle and is a Signature Member of the Pastel Society of the West Coast.   In addition to painting, Sharon teaches workshops in oil and pastel, as well as operates a custom framing business from her studio.  Memberships include; The Great Lakes Pastel Society, Pastel Society of the West Coast, Degas Pastel Society, Oil Painters of America and American Impressionist Society.
           "I am committed to making impressions of my world.  Much of my work today is done plein air, as I find it the most satisfying.  There is nothing more exhilarating than being outdoors working from life in all seasons.  Direct observation from life is the only way to truly see the subtleties of color found in nature, whether it's painting plein air, or in the studio.  Believing that nature is our best teacher, my work focuses on capturing the light in everyday situations, and learning to see the world in it's simplest elements of value, shape, color and edges.  My goal is never to copy nature, but be true to it, while focusing the viewer on that special light, color relationship, or mood that initially excited me.   It's my hope that as I humbly attempt to capture glimpses of the beauty in the world around me, the creation as well as our Creator is honored".
Artist Gallery