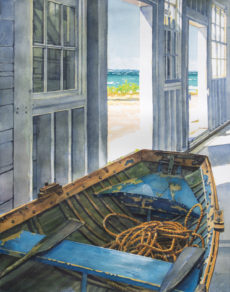 The creative inspiration behind my artwork is found in the delight of discovery. This was first instilled into me as an impressionable child while traveling with my parents on vacation to unfamiliar places. Certain views and places I encountered filled my heart with wonder. Places many might not have noticed; however for me, I saw and sensed something beautiful that I wanted to hold onto and remember. It was through artwork I considered and expressed my experience.
To this day, I remain passionate about the adventure of exploring, seeing and discovery. Sometimes I am rewarded when I am not so far from home, but more often when traveling somewhere less familiar to me. What captures my attention? Typically it is the story it tells, the abstract shapes, texture, and absolutely what the sunlight reveals or hides. With each trip my senses are heightened with anticipation toward what I might find with the intention of capturing it in a painting.
With each painting I am exploring how to convey the experience better. I contemplate what drew me to it, extracting what I find distracting and enhance what remains. How to say more with less. Methods and techniques are constantly under question and evolving with each painting. Always learning.
Presently I work exclusively in watercolor because I love it's translucency and responsiveness to capture the impression of light. To me light is layered with color upon color as is watercolor. Light shifts and flows from one form and layer to another as does watercolor. Careful observation of the light reveals the mood and atmosphere. It is in the attentiveness to the patterns and form revealed by light that make the representation of the subject appear natural or realistic—not detail. As to the responsiveness of the medium, I enjoy that it is so conducive to expressing differing characteristics of a subject. I'm always learning with each painting that watercolor says the most when it is left to be free and not controlled.
When you, the viewer, look at one of my paintings, my hope is that your moment with it might transcend a pleasant imagine to see more deeply a special moment and subject that stirs your heart to realize the blessings of seeing what is around us every day. To awaken your heart to what you might otherwise miss.
Artist Gallery