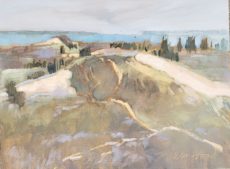 1st Place Winner of Glen Arbor's 2023 Annual Plein-air Paint Out yet again !!!
Be sure to stop in to see her new 2023 works of art here.
Debra Howard has been an artist and adventurer her entire life. She spent her childhood in Miami, Florida, where she rediscovered her love affair with color, light, painting, and sailing. She studied at Ringling School of Art in Sarasota, and began her art career in San Francisco, where she opened her first illustration studio. After 17 years as a successful illustrator, she closed her studio to concentrate on fine art painting. "I realized that the career I had found so satisfying was being taken over by the computer. I missed the feel of the brush on canvas."
In response, she provisioned her Peterson 44 sailboat with art supplies, her old dog and her 4 year old daughter and began cruising. After almost 27 years of traveling, sailing and painting aboard, Ling Ling, she has come ashore and has turned her creative focus to painting the Eastern Shore and the Leelanau and Old Mission Peninsula in northern Michigan.
Her introduction to the Eastern Shore came by way of Tangier Island. A tiny, remote island in the middle of the Chesapeake Bay. She lived there for 3 years, as the artist-in-residence and then as the Executive Director for the Tangier History Museum. She accomplished the task of painting a painting a day to document the seasons and changes on this disappearing island. Her work was featured in The American Scholar Magazine. The experience changed her; "I paint now with more energy, passion and immediacy," Howard says, "which coincidentally reflects the very nature of the island. The island is raw."
After years of traveling and painting from a sailboat she switched from sailing to camping. "I now travel from April to November exploring and participating in Plein Air events in my little RV trailer with emphasis on northern Michigan. I am especially inspired with the Traverse Bay and Lake Michigan area of the state and now live in Omena from July to late September where I paint and teach art workshops.
Debra has been juried into Plein Air competitions in Maryland, Pennsylvania, New York, Michigan, Maine, Delaware, New Jersey and Virginia and is a member of the Mid-Atlantic Plein Air Painters Association, Northport Art Association and the Glen Arbor Art Association.
She was voted Best Visual Artist in Charleston, SC in 2007 and was the 2016 Artist-in-Resident for Sleeping Bear Dunes National Lakeshore. Debra was the 2017 first place winner of the Glen Arbor Plein Air, and won 1st place again in 2021, Dexter Michigan Plein Air and "Golden Hour" for Northport Plein Air. She now resides in Crisfield, Maryland and Omena, Michigan in the summer.
Artist Gallery