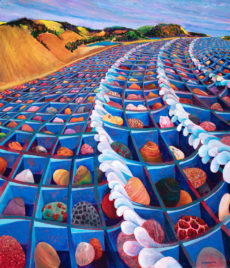 My starting point for creating art centers around this thought: "Would I like it hanging on my wall, and does it have a purpose?" I try to make paintings that can be appreciated on different levels so they continue to interest the viewer over time. Often, the starting point is an event, a lyric from a song, a visual allegory, an interesting place, a fleeting thought, or a deeply held belief. I also try to create a slight sense of imbalance in my work by using multiple points of observation and by using rhythmic line movement. Diagonal lines often replace what the viewer would perceive as horizontal in nature. I also like to create details that are universally rather than visually descriptive. This invites the viewer to more easily attach their own meaning to the work. 
Robert Penning received his Undergrad and Masters Degree from Calvin College. He was an art teacher for 33 years at Jenison Public Schools, Calvin Christian Schools and Forest Hills Public Schools. He is also the owner of a Plumbing and Irrigation company. 
Penning lives in Cascade Township, MI.
Penning's work has been shown in: the last 8 Grand Rapids Art Prize's, the Forest Hills Fine Arts Center, the Calvin College Art Center, at the Grand Rapids Festival of the Arts, at Madison Square Church, at Church of the Servant, at the Upper Room Gallery, at the Maddie and Flynn Gallery and at Design Quest.   
Artist Gallery