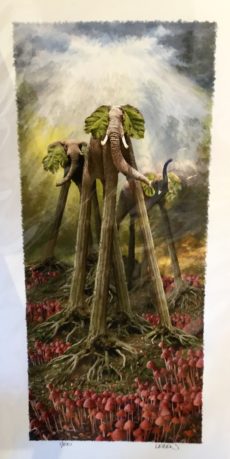 Project yourself into a different world; a fantasy world… one that may seem familiar to you. In this world, we watch, blindly, as our farms turn to deserts, our cities are flooded, and our population explodes. This world is ailing, but we optimistically look forward to better times when technology will solve all our problems.
But will it? Can environmental bureaucrats re-engineer our society to be more green? We trust them with our lives and our environment, even as they unleash unproven technology to unexpected consequences. We may laugh at their antics and their solutions, but we are optimists and they are powerful.
Is this world better for their involvement? Is the air more clean? The water more pure? The harvest more plentiful? Or do their reckless projects mock the ideas of renewal and redemption?
These are the themes of The Urban Punk Series, which use surrealistic imagery, fantasy, and, yes, humor to show a world of inept leadership and absurd solutions to environmental problems. Each painting tells the story of our constant efforts to make things better. Each one reflects our naive certainty that technology will solve our problems. Is there optimism in these paintings? You be the judge.
Artist Gallery