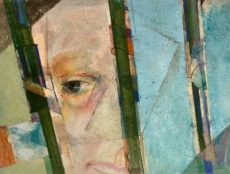 From 1955 through the present day, R.K. Ray's work has appeared in a wide variety of One Man and Group Exhibitions all across the United States and the world, both invited and competitive.
Early studies began in Indianapolis with a BFA from the Herron School of Art and Design, followed by an MFA from Yale University. Throughout this time, R.K. Ray was fortunate enough to be included in the values of Art through the engagement of studies at Yale, inspired by the nation's most relevant educators and conceptual genius.
Turning from his personal studies, R.K. Ray began a lengthy career in Art education; enjoying a range of teaching opportunities from Artist in Residence positions, Community Outreach programs and Fine Art and Design curriculum to Graduate Studies Professor of Painting/Drawing/Art Education at the University of Wisconsin by 1970. By 1998, R.K. was a Professor of Art Emeritus at U of W.
Throughout this time, R.K. Ray continued to generate a unique body of work that has been exhibited in such diverse locations as the Krannert Art Museum, Cincinnati Art Museum, SUNY, Artes Beaux Arte Contemporain Antwerp, and Namazu City, Japan, among others. His works can be found in the Boston Museum of Contemporary Art, the Dayton Family Trust, the Dane Collection, Chicago's Reese Hospital, and more.
Today, R.K. Ray works daily from his home studio with an inspiring setting in Northern Michigan. He continues to explore his unique ability to express ideas through art whether using pencil, watercolor, or oil.
Artist Gallery