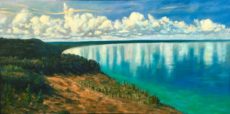 "Painting is better than not painting."
---
1957: Cracked open first box of Crayola crayons.
1978: A.S. Degree, Technical Illustration, Ferris State College, with Honors
1978-1982: Technical Illustrator, Clark Equipment
Created technical illustrations for maintenance, operation and assembly of industrial lift trucks.  Created cartoons for safety literature.
1983-1989: Freelance Artist
Completed technical illustrations, photography projects, medical illustrations and cartoons to meet clients project goals and deadlines.  Completed B.S. in Fisheries and Wildlife Management from Michigan State University.  Paid all college and living expenses with freelance art projects.
1989-1994: Environmental Technician Private consulting firm
Created graphics for reports and safety cartoons for personnel training.
1995-2000: Environmental Scientist Private consulting firm
2000-Present:  Environmental Quality Analyst County Government
Created full color cartoons for award winning County web portals.
Awards:
2nd Place, 2013 Stockbridge Area Arts Council Competition
People's Choice Award, 2013 Stockbridge Area Arts Council Competition
Artist Gallery