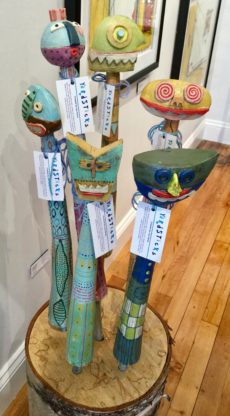 This is what happens when I sit down to work: I think about the charm and beauty of my own children's drawings when they were about 4 years old. How great and strange and uninhibited their art was when they saw themselves as nothing more than a giant head, long skinny legs and maybe some hair. Then I think about cave paintings and African masks and celebratory tribal costumes with crazy juxtapositions of shapes and scale. I think of all the old stuff I love in the Met or the Field Museum — all of those ancient objects dug up from some long-lost island or jungle or desert. I think about Egyptian mummies and their crazy-elaborate necklaces and baubles. How when they died, they loved their objects so much, they had to be buried with them. These vast and varied influences get all jumbled up in my brain — to me it seems like everyone, for thousands of years, is just trying to express joy in the everyday world.
This is what I want to explore in my work. That age-old endless need, from the time we are children, in every culture, in every era that we humans have to render our own image and to make it fancy. And so, I make figures out of clay: Singular, decorative figures. They vary in scale from tabletop to six feet tall, from an abstraction of shapes to representational. Most recently, I have taken my work outside with a series of Garden Totems. I love the idea of people coming upon my work and feeling like they've discovered an artifact — a cairn along a hiking trail, a scarecrow in an open field. I love playing with the front and back of each totem — Is it a face or a body, a creature or a person?
I work for hours and hours alone, when my children are at school, when my husband is at work. I am alone but really I am trying to connect. To people. To the world. To the whole history of art. Because to me, a drum beating in Africa isn't so different from a scribble in a cave in the middle of Utah, which isn't so different from how a child draws in preschool. I want people to recognize themselves, like it's their own self-portrait. Sometimes I can hear the music. I can feel the shimmer of a dance. I am alone but I am not alone. As I build my figures, I am trying to tap into how alike we all are. I am trying to get people to see it: all of our humanity, all of our joy.
Artist Gallery