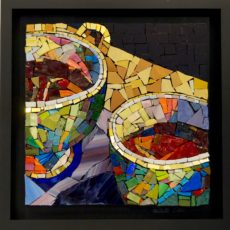 Vivid colors, strong design and a sense of movement characterize my art. I strive not only to create beautiful images but also to evoke emotions in my work. I work in multi media including: mosaics, watercolor, pastel, oil, charcoal, pencil and acrylic. I am fascinated with the way in which light plays upon surfaces and abstract patterns created by shadows and light.
In my glass mosaic work this fascination has led me to recent experiments incorporating glass with other materials, creating 3-D and outdoor mosaic pieces. My glass mosaic works includes large wall installations, furniture, 2-D and 3-D mosaic 'paintings' and mosaic sculpture.
The glass mosaic pieces at Sleeping Bear Gallery are from my recent "Tea Cups" series.  They are 3-D bas-relief pieces created with Italian Smalti glass. These mosaics were inspired by my loving relationship with my grandmother, whose tea cups I inherited after she passed. To me, sharing a cup of tea or coffee is a beautiful way to connect with others and I hope to convey this joy in my pieces.
It is my hope that my art work lifts your spirit and enhances your life.
Artist Gallery