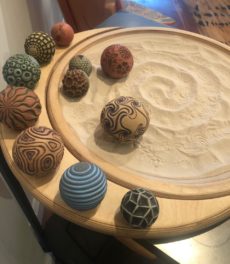 Olander Earthworks is centered around the idea of play and interactivity. We specialize in small cast cement sculpture and carry four distinct product lines including sand spheres, expressive wall-hanging faces, quirky table top heads and a line of wall-hanging animal heads.
Our sand spheres are hand-cast and pigmented in cement and come in a variety of designs and pleasant natural earth tones. They are interactive, durable and meant to engage the subject in a playful manner. The textural patterns are inspired by natural forms and allow the user to roll a continuous pattern as opposed to one-directional rolling or stamping. The spheres are a modern take on a zen tray and it is often said that rolling the spheres is both calming and therapeutic. This tactile experience has a timeless quality, fun for young and old. Additionally, the aesthetic draw of the sand spheres make them ideal for an attractive display when not in use.
Although each piece is hand cast from a mold, they are each individually processed and pigmented, meaning that each sphere retains its own unique quality.
Our entire sculptural line is created, hand-cast and finished in Portland, OR. We utilize a local CNC company and contract with a local woodworker to finish off our sand trays. We value quality over quantity and a high level of craftsmanship is integral to our end-product.
Artist Gallery