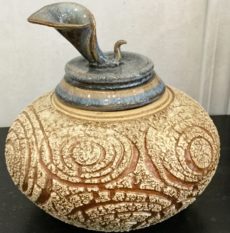 I would like to think my vessels have an organic almost grown appearance. The base forms are enhanced with rugged textures that occur naturally as a part of the forming process.
These various textures, along with the selected glazes, set the theme for each piece. Most often I design a companion lid which is intended to extend the theme and compliment the base with a more complex sculptural statement.
My intent is to make art and something that lives on its own aesthetic value. I seldom consider additional function in order to enhance the vessels reason for being.
Artist Gallery