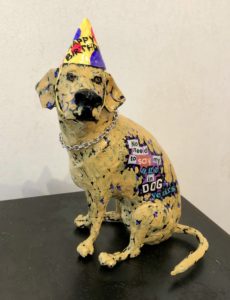 I discovered art at an early age and never recovered.
From my early days of crayon experimentation, to the
latter day laminated paper and wire sculptures, I have
always sought a presence in my work. Often
humorous in nature, my sculptures are best experienced
in person. The properties of the laminated paper and wire
allow me to explore dynamic and absurd situations, which
I love to do.
I am probably best known for my dog subject
matter, and I take on commissions occasionally.
I'm delighted to be exhibiting at Sleeping Bear Gallery!
Artist Gallery